Boys basketball
Schroon 55, Chazy 35
Schroon Lake remained undefeated in Mountain and Valley Athletic Conference boys basketball action with a 55-35 victory over Chazy Feb. 13.
The Wildcats are 14-0 in conference play and 15-1 overall. They are the 13th-ranked Class D
Photo Gallery
Crown Point v.s. Minerva-Newcomb girls basketball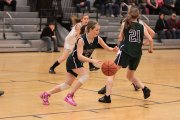 Minerva-Newcomb win against Crown Point with a final score 50-41
team in the state.
Ian Williams scored 22 points for Schroon, which grabbed an 18-9 lead and never looked back against the Eagles.
Jesse Shaughnessy added 14 points for the Wildcats.
Brandon Laurin scored 14 points to lead Chazy.
Girls basketball
Minerva-Newcomb 50, Crown Point 41
Minerva-Newcomb pulled away in the final minutes to score a 50-41 win against Crown Point in Mountain and Valley Athletic Conference girls basketball play Feb. 13.
The game was close all the way, but Minerva-Newcomb closed the game with a 16-9 run to secure the win.
Renna Yandon scored 15 points to lead the Mountaineers.
Julianne Glebus tallied 14 points to pace Crown Point. Amanda Wolf added 10 points.
Vote on this Story by clicking on the Icon