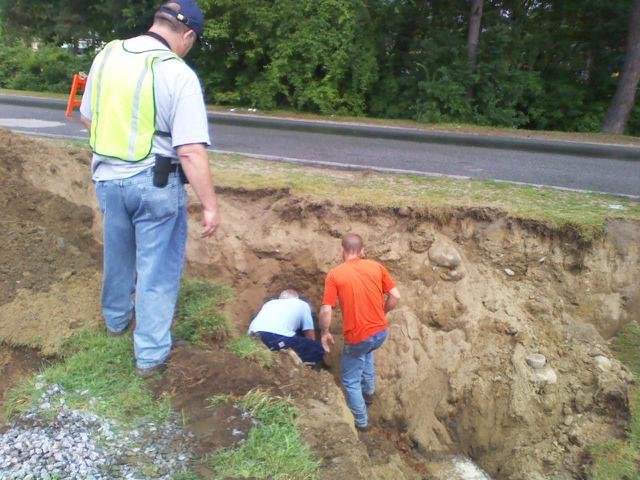 LAKE GEORGE — LAKE GEORGE — Town officials expressed frustrations Feb. 13 about groundwater draining off state land into town sanitary sewer pipes and being treated at the village sewer plant at the expense of town taxpayers.
Their concerns were aired as the town heard from new town board member Dan Hurley about ongoing efforts to slip-line the town's sewer pipes to reduce infiltration.
Town Code Enforcement Officer Rob Hickey said that despite objections aired years ago, clean groundwater was continuing to flow from drain pipes under state-owned Battlefield Park and being dumped into the town's Caldwell Sewer District transmission line.
Hickey said that town officials took action in July 2010 to cap off the lines that illegally drained and transported the water, but reconnected the pipes just days later because water was backing up in the park.
"How come the state is not paying for this," town supervisor Dennis Dickinson responded at the Feb. 13 town board meeting.
Old-timers in town have said the drainage pipes were likely installed decades ago by the state Department of Environmental Conservation when the agency created Battlefield Park from former swamp land. The pipes were constructed to drain off underground sources of water that fed the swamp, they've speculated.
But in 2010, the state denied knowledge or ownership of the pipes.
For years, town and village officials have been concerned the village sewer system has been overburdened. In 2010, videos taken by a robotic camera inside water pipes confirmed that stormwater flow was a primary culprit for massive inflows.
It was discovered that the pipes under Battlefield Park were delivering a considerable flow — thousands of gallons daily — of clean stormwater into the town's main transmission line.
For many years, it has been illegal to pump stormwater into the municipal sewer system, which is reserved by law for septic sewage.
(Continued on Next Page)
Prev Next
Vote on this Story by clicking on the Icon