Crown Point — Crown Point residents will soon be able monitor local government on the internet.
The town is developing a new website that will allow for regular updates and provide current information.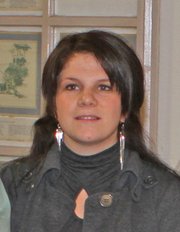 Crown Point has had a website through a design company for the past two years, explained Supervisor Charlie Harrington. That site, though, can only be updated by the company at expense to the town.
"We're changing our website to allow us to make updates from the town hall," Harrington said. "We want it to be current and have information people need."
The supervisor said the new website will have town meeting dates, agendas for upcoming meetings, minutes of past meetings and other information.
"Everyone seems to be tuned into the internet," Harrington said. "It would be foolish not to take advantage of it. It's another tool for government to reach people."
Tara Peters, who took a seat on the town board in January, will head up the internet project.
"Tara has stepped up and volunteered to do this," Harrington said. "This is certainly going to make communication with the community much easier and faster."
The supervisor said new software at the town hall will allow the website to be maintained locally.
Harrington wants Crown Point residents to be confident the new website will contain factual, accurate, unbiased information.
"We're working to establish a policy for the use of the website that makes certain it's not a political tool, but an information source for residents," he said.
Vote on this Story by clicking on the Icon