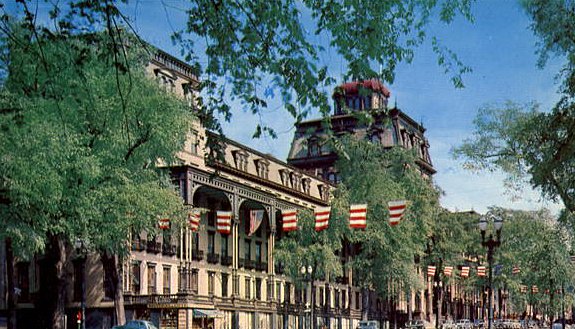 Business changes hands
"Mayor" E.T. Hayes has sold his livery in downtown Warrensburgh to Dick Wood of Saratoga Springs who took possession in January. Mr. Wood is an expert horseman and has been a trainer of trotting horses for many years. He was employed in that capacity by the late Captain John L. Russell in the palmy days of the Home Lawn Stock Farm in Warrensburgh. Michael Moynihan is employed by Mr. Wood in the livery. (Note:"Palmy" is an archaic word meaning prosperous and flourishing. Captain Russell raised his show horses in the barn still standing behind today's Warrensburgh Post Office. His nearby big home burned in 1980.)
News roundabout
Ice houses are being filled with ice of the finest quality. Sodom blacksmith Charles Morehouse has all he can do these days in keeping up with horses shod and sleighs in running order.
Ira Webb recently died at McDonough at the age of 106 years. He was the oldest voter in New York State and had always cast a straight Republican vote.
A hockey game between the St. Nichols hockey team of New York and the Londons of Albany was played Saturday afternoon, Jan. 13, 1912 on the skating rink recently constructed on the new Fort William Henry Hotel grounds at Lake George.
In Darrowsville, barrel hoops are in great demand and many are being shaved there. A son, Elroy Chester Young, was born Jan. 24, 1912 in the Forest Young home.
Mercy Daggett of North Thurman is ill with erysipelas. Herbert Ingraham, Thurman mail carrier, suffered a severe loss Friday, Jan. 26, 1912 when his horse died.
The Grand Union Hotel in Saratoga Springs, considered in 1876 to be the largest hotel in the world, is scheduled to be razed. (The lavish hotel, which could accommodate 2,000 guests and sprawled across an entire city block, dodged this fate. It remained a landmark in Saratoga Springs until the 1950s, when it was demolished for a supermarket, which coincidentally was named "Grand Union.")
Readers are welcome to contact Adirondack Journal correspondent Jean Hadden at jhadden1@nycap.rr.com or 623-2210
Vote on this Story by clicking on the Icon