Lake Placid — The 32nd annual Empire State Winter Games was held on Feb. 2-5 with over 1,000 athletes competing in a number of sports disciplines.
"Everything went swimmingly," said Sandy Caligiore, director of media relations for the games. "We added new sports this year, [adaptive biathlon and adaptive cross country skiing] and long track speed skating came back after about 25 years away. The past few days, the weather couldn't have been nicer."
The games boasted 1,104 participants in 16 sports this year, almost 200 more participants than they had last year.

The 2012 games also marks the second year that the games have been put on by a cooperative effort of various municipalities and North Country villages, ORDA, and other local organizations, all well represented at the opening ceremonies on Thursday evening. For the first 30 years of the event, New York State had run the games.
"This year we invited the Village of Tupper Lake, and they will be involved in the future," said Jim McKenna, games Coordinator from The Regional Office of Sustainable Tourism in Lake Placid which oversees the games.
"Sport organizers basically are in charge of running the individual competitions," added Caligiore.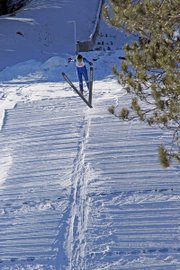 This year, the games added an additional day (Thursday of the events) and moved the competition from the end of President's Day week, when it has traditionally been held.

"We thought that gave us more opportunity for growth," said McKenna.

"There is already a high demand with the venues that week with recreational users," said Caligiore.

Organizers were "more than happy," according to McKenna, for the games' success, particularly in a year of making such changes.

But perhaps the real barometer of the games' success comes from the thoughts of the athletes themselves.

"It's just, oh my gosh, the best competition ever; the competition I look forward to every year," said Gabrielle Mauro, 13, a figure skater from Lancaster, who placed third in the intermediate category.

(Continued on Next Page)
Prev Next
Vote on this Story by clicking on the Icon