Ticonderoga — Rolland Yaw knows the devastation of a nuclear strike. He's seen it.
"You can't believe it," said Yaw, who visited the Japanese city of Nagasaki shortly after the American attack that ended World War II. "The entire city was leveled.
"I remember seeing the silhouette of a man burned into a brick wall," he said. "I'll never forget that."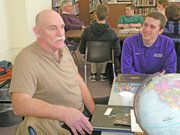 That explosion on Aug. 9, 1945, killed an estimated 80,000 people immediately. In the days that followed thousands more died from burns, radiation sickness and other injuries.
Yaw, who was serving in the U.S. Navy, was part of the American occupation force at the end of the war. Enlisting the day after the Japanese attacked Pearl Harbor at age 17, the Ticonderoga man survived the sinking of his ship and took part in several key battles, including Iwo Jima and Okinawa. American casualties at those two battles alone totaled 91,000 men.
Yaw was one of six American veterans who took part in a Ticonderoga High School program Feb. 8. Nearly 90 students had a chance to meet local veterans, interview them and write biographies. It was a joint project of the school English and social studies departments, led by Deb Breitenbach and Bob Sutphen.
"It's important our students know about our history and the sacrifices of our veterans," said Sutphen, a social studies teacher. "We want them to have a connection with our local veterans and to recognize their service. It really enriches their understanding our past."
Breitenbach agreed.
"The goal is for the students to hear real stories from primary sources; to see what the things they've read about in history are all about," said Breitenbach, an English teacher. "Then we want them to write biographies of these men, both as a writing exercise and a way to remember them."
(Continued on Next Page)
Prev Next
Vote on this Story by clicking on the Icon