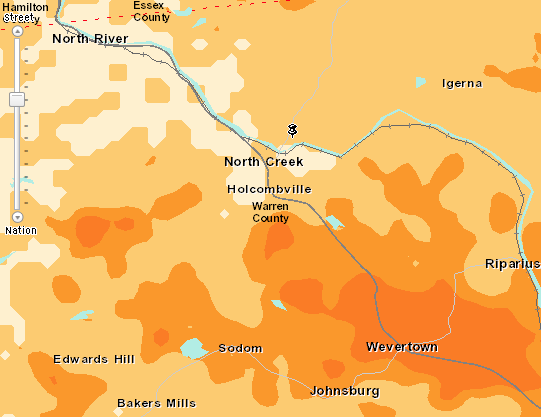 This and other studies have indicated that lack of broadband is hampering businesses, curbing job growth, and throttling tourism. Development of broadband infrastructure has been identified as critical for economic vitality in the Adirondacks.
While the sparse populations scattered over wide areas of the Adirondacks presents a challenge to providing broadband through conventional technologies, recent regulatory developments and technological advances offer hope.
A small-scale broadband project in the southern Adirondacks appears to offer a promising solution that might be applicable to vast areas of the Park.
In Thurman, an entrepreneur is working with the town government to bring fast, affordable broadband to the town's 1,200 households. The access is based on broadcasting digital signals over the "white space" between television station signals on the radio-wave spectrum. The Internet connection through this technology is up to eight times faster than satellite. The system transmits signals from dozens of existing telephone poles throughout the rural town to small antennas at households.
The technology is promising, because it works over hilly terrain, and transmits through foliage, unlike other digital broadcast options.
We at Denton Publications hail the initiative.
Now, it's time for action from all levels of government —to go beyond mere studies and jargon-filled proclamations. Our political leaders need to step forward and encourage such initiatives like the one under way in Thurman.
Our politicians should stop giving mere lip service to expansion of rural broadband and take action to develop policies that prompt competition, encouraging local start-ups to utilize various technologies for local broadband networks that fit the requirements of the local terrain and population. This may mean simply relaxing regulations or decreasing bureaucratic permit requirements, or it may mean aggressively pursuing grant funding.
Such action is important to our region's economic health, as well as preserving the unique culture and lifestyle of the Adirondacks.
Vote on this Story by clicking on the Icon