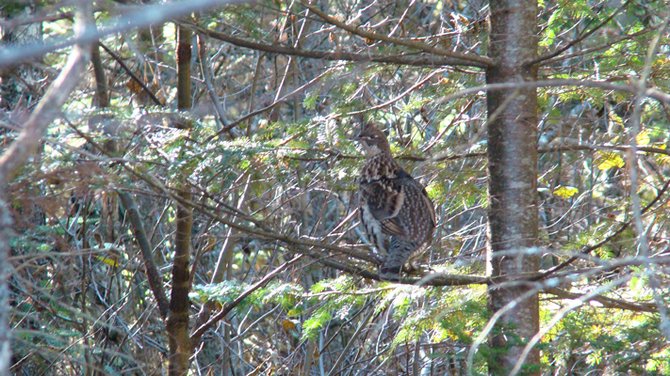 Recently, the DEC announced a proposed five-year bobcat management plan. "The plan, once final, will guide the management of bobcat in New York State for the next five years, a wildlife species which continues to fascinate and intrigue both the hunting community and nature observers," explained DEC Commissioner Joe Martens. The draft management plan is available on the DEC website. The comment period on the draft plan runs through Feb. 16, 2012.
The public is invited to comment on DEC's proposed plan for guiding management of New York State's bobcat populations through the next five years. Comments may be submitted in writing through Feb. 16, 2012 to NYSDEC Bureau of Wildlife, Bobcat Management Plan, 625 Broadway, Albany, NY 12233-4754 or by email (type "Bobcat Plan" in the topic line).
Fool Hens of the Forest
Spruce grouse, aka "fool hens" or "Adirondack Prairie Chickens" are one of the rarest birds in the Adirondacks.
They are renowned for an apparent lack of fear of humans. In my travels, I have often had to get out of my vehicle to chase them out of the road, so I could pass.
Roughly the size of a Ruffed Grouse, these timid birds measure about 15-17 inches in length, the male is black on the upper breast and throat, has a brown or blackish tail tipped with chestnut, white-tipped undertail, a finely barred gray and black rump, and a crimson comb above each eye.
Although spruce grouse were once a common fixture of the cut over forests of the Adirondacks in the late 1800's, the current populations are fragmented and sparse.
Many believe that a reduction and fragmentation of spruce-fir forests and the maturation of remnant stands is responsible for the steady decline of the species, which now number less than an estimated 400 birds.
Faced with a possible extinction of the species from the state, the NYSDEC developed a Spruce Grouse Recovery Team in 1992 to ensure the long term survival of spruce grouse populations and their associated boreal forest communities in New York.
The Spruce Grouse Recovery Team has identified various management and research actions needed in order to protect, maintain and enhance spruce grouse populations including the protection of currently occupied sites.
Fortunately, the core area of viable Spruce Grouse populations is centered primarily on a number of large interconnected, parcels of private lands. Public education, combined with the elimination of threats and the enhancement key habitat areas are the steps necessary to ensure the survival of this strange and stately species.
Joe Hackett is a guide and sportsman residing in Ray Brook. Contact him at brookside18@adelphia.net.
Vote on this Story by clicking on the Icon