Ticonderoga — Ticonderoga Middle School students were offered a chance to learn the basics of ice fishing and ice safety recently, skills organizers said they will be able to use for life.
Representatives of the Hague Fish and Game Club visited the Ticonderoga Middle School recently and taught students about ice fishing basics. The next day, the students were able to put their lessons to the test on the ice.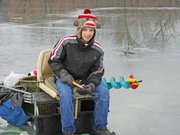 Members of the fish and game club and school faculty brought the students onto the ice by the Ticonderoga ferry landing. The students enjoyed the nice weather and put their lessons to work equipped with jig poles and ice fishing cleats.
"We're in a prime area between Lake George and Champlain and ice fishing is a great sport to participate in," John Sheehan, event organizer and member of the fish and game club, said.



The fish and game club combined with the Best Fourth in the North Committee to organize the event.
Professional fisherman Shawn Hayes taught a variety of safety lessons, including how to identify safe ice.
"They taught us that safe ice is clear and bad ice is cloudy with air bubbles," sixth grader Riley Quigley said while fishing with his classmates.

Out on the ice, Hayes brought state-of-the-art Vexillar sonar equipment including a fish scout camera. Hayes said not only can the camera allow an angler to see fish under the ice but also underwater vegetation.
If snow happens to block sunlight and kill vegetation on the lake's bottom, fish will move on to areas with more vegetation and higher oxygen levels, Hayes pointed out.
Lessons students learn from ice fishing could help them in areas of academics such as biology and history, Hayes said.
"Schools emphasize basketball and baseball and football, then the students get out into the real world and it's not too often they can organize a game with friends," Ticonderoga Justice Keith Dolbeck said as he stood with his granddaughter Sarah Bressett. "With fishing this is something they can do for a lifetime."
(Continued on Next Page)
Prev Next
Vote on this Story by clicking on the Icon