Ticonderoga — Ticonderoga Central School officials are asking residents for ideas as they face a $1.7 million budget deficit.
While the district expects to gain about $300,000 in state aid in the 2012-13 budget, it will lose nearly $1.7 million in "one shot" funding that was used in the current spending plan.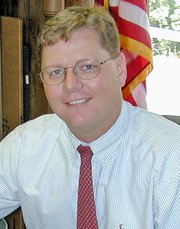 "We have some serious shortfalls" John McDonald, Ticonderoga school superintendent, said of the 2012-13 budget. "Unless we receives some sort of windfall from the state, we will have to make some very difficult decisions, some major cuts."
Before making those cuts, the Ti school board wants to hear from residents. A meeting has been scheduled Wednesday, Feb. 15, at 7 p.m. in the high school cafeteria to garner public comment.
"We want to know people's thoughts and priorities," McDonald said. "We want to know what's important to them."
McDonald stressed people should come to the meeting prepared to participate. There will be a short presentation, he said, then people will be asked for their opinions.
The New York State tax cap, which takes effect this year, calls for a 2 percent limit on tax increases — although some aspects of school spending are exempt from the tax cap.
In Ticonderoga that means taxes can increase a maximum of $350,000 in 2012-13. That's a 3.5 percent increase when exemptions are added in.
At the same time Ticonderoga has lost nearly $1.7 million that was available in 2011-12. Gone are $700,000 in state Excel aid, $310,000 in employee concessions, $300,000 in local fund balance, $180,000 in federal stimulus money and $87,000 from the employee retirement fund.
McDonald said employee concessions could be available again, but the issue must be negotiated with local unions. The local fund balance is no longer available; it was used in the current budget.
A budget advisory committee has met twice, but McDonald stressed no decisions have been made on possible spending cuts.
"We're going to have to look at all non-mandated programs," the superintendent said. "Athletics, extracurricular activities, academics, transportation — we have to look at everything."
A local school district can exceed the state tax cap with approval of 60 percent of local voters. McDonald doesn't believe that's realistic in Ticonderoga. Last year residents rejected the budget when it was first presented and passed it a second time by three votes.
Vote on this Story by clicking on the Icon