Moriah — Work is about to start on one bridge replacement while plans for another are under way in the town of Moriah.
Work is about to begin on the Titus Road Bridge, which has been closed since it was damaged by flooding last May.
The $534,000 contract for the project has been awarded to Tioga Construction of Herkimer. Work is scheduled to be completed by May 31, according to Tony LaVigne, Essex County superintendent of public works.
"That work should be starting very soon," LaVigne said. "That has been a priority for us since it was closed."
The Federal Emergency Management Agency will pay 75 percent of the new bridge construction, LaVigne said, while New York State and Essex County will each pay 12.5 percent.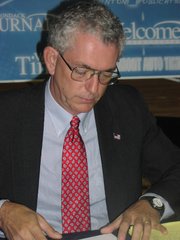 The new bridge will be welcomed, Moriah Supervisor Tom Scozzafava said.
"It's been a huge inconvenience for the people who live on the other side of that bridge," Scozzafava said. "It's also been a concern for emergency services since there's no direct way to reach those people right now."
There are four families living on the north side of the Titus Road Bridge, but Scozzafava noted the roadway is well traveled.
"I'll be glad when that bridge is replaced," Scozzafava said.
Engineers are also designing a new bridge to replace the Moriah Center Bridge on Plank Road, LaVigne said. That bridge is now open to traffic, but has been flagged as "severely deteriorated" by state inspectors.
The Moriah Center Bridge, which spans Mill Brook, was built in 1920. It had major repairs in 1987.
LaVigne said work on the bridge will take place in 2013 and is expected to take about three months.
As part of the project Essex County is seeking an easement to use property east of the present bridge to erect a one-lane temporary span with a signal light to keep traffic moving during the construction.
(Continued on Next Page)
Prev Next
Vote on this Story by clicking on the Icon