Plattsburgh — The past year has brought tremendous and historic change in Albany and New York state, says Gov. Andrew Cuomo.
"It is that we made a conscious decision to put politics aside," said Cuomo, speaking to a crowd of more than 400 at Plattsburgh State on Feb. 3. "We are New Yorkers first. We are here to represent the people. Let's find commonality and compromise."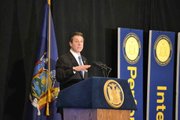 A lot was accomplished in Albany, he said. But it was a long year.
"It was also a highly successful year."
Last year, lawmakers closed a $10 billion budget deficit without resorting to new taxes or borrowing.
Albany enacted the first ever property-tax cap, provided flood relief, passed ethics reforms and more.
"Last year, New Yorkers were hurting," Cuomo said. "This economic recession has wreaked havoc on people's lives."
Albany was filled with scandal and was ineffective, he said.
"When citizens don't trust in their government, their government is powerless," Cuomo said. "That's where we started a year ago."
But lawmakers chose to change the culture of Albany and put people first.
Last year's session was productive and historic, Cuomo said. New York led the nation when it passed marriage equality for all New Yorkers, and the middle class paid the lowest tax rate in 58 years.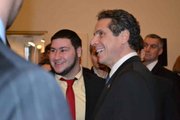 "We've only just begun, and now is the time to really get to work," Cuomo said.
His executive budget closes the current $2 billion deficit with no new taxes or new fees. It proposes sweeping mandate relief and pension reform and launches historic education reform, putting students ahead of the bureaucracy.
The budget further lays the foundation for an innovative $25 billion economic development agenda, funded largely by leveraging billions in private sector investment rather than by taxpayer dollars.
"New York must stay ahead of the competition," Cuomo said.
(Continued on Next Page)
Prev Next
Vote on this Story by clicking on the Icon