Keeseville — The Keeseville Fire Department celebrated Robert Russell's life-saving actions and bravery in a ceremony at the fire house Jan. 30.
Russell called 911 Dec. 26 when he found his mother, Cindy Hemingway, unresponsive after she collapsed during a seizure. During that time, Russell's 18-month-old sister Paige was also in the house. Not only did he assist his mother, but he took care of Paige while emergency personnel were on their way.
Responders to that 911 call gave a special presentation in Russell's honor before their regular meeting.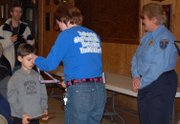 "We wanted the whole fire department to be here to show our appreciation," said Debra Winters, emergency medical service captain at the department.
Winters, County Dispatcher Priscilla Aubin and other members of the fire department presented Russell with a plaque, a model fire truck and a medal that read 'Mommy's Hero.'
Winters said in her experience working with EMS she has rarely seen a child who was able to handle his composure in a tough situation as Russell had.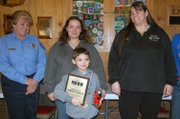 "Normally when there's a problem children will run for another adult because they are scared," Winters said. "But this little boy was so calm, knew what to do and answered all the questions about his mother's condition."
Hemingway, who has suffered from epilepsy since she was 13 years old, had taught him about her condition from a young age. She wanted him to be prepared.
"I showed him, over and over, the emergency numbers I had put on the back of the phone in case this happened," Hemingway said.
It had been a few years since the last time Hemingway suffered a seizure. She had taught Russell none the less to be prepared by showing him the sticker with emergency numbers she received from the fire department. She said she felt safe knowing if something like this were to happen again she had her son on her side.
(Continued on Next Page)
Prev Next
Vote on this Story by clicking on the Icon