Elizabethtown — Members of the Bringing Essex County Strengths Together (BEST) Committee met at the Essex County Board of Supervisors Chambers Feb. 1 to discuss the battle against synthetic marijuana.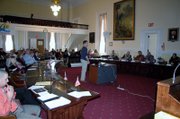 Led by Michael Mascarenas of the Essex County Youth Bureau, the committee brought together members from youth advocacy groups, law enforcement and county to talk about the dangers of legal substances like K-2 which is being smoked by individuals to get the same effects as drugs like marijuana.
Mascarenas said that the meeting, which was intended as a small gathering of local leaders but exploded into a public meeting after being reported as a public forum on the matter, was intended to put together a plan to "attack the issue of synthetic marijuana."
"The ultimate goal is to come up with an organizational action plan that we can all get behind and work together to solve this problem," Mascarenas said. "We want to make this an united effort and attack this together."
Mascarenas also commended students from Elizabethtown-Lewis Central School who were in attendance at the meeting.
"They have seen a problem and they wanted to do something about it," he said. "These students have been very candid and very open about this. It is there issue, and they brought it to the table and they want something done about it."
One student, junior Sarah Sandberg, spoke about her experience with the substance, while fellow junior Brody Hooper showed a presentation that he created to help emergency room attendants at Elizabethtown Community Hospital understand what K-2 was.
"It was an in-service project on what to do with a K-2 patient for the hospital and it has expanded from there," Hooper said. "I was working on the first case that we saw that we knew was K-2 related, and some of the people had never heard of it."
(Continued on Next Page)
Prev Next
Vote on this Story by clicking on the Icon