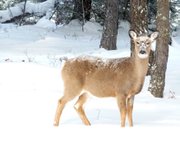 Last week, I traveled to Whallonsburg to attend a lecture on bobcats in the Adirondacks. By the time I arrived, there were over 50 cars in the small lot, and the Grange Hall was nearly filled to capacity. There is no doubt about it, Adirondackers are curious about their cats.
The event featured renowned tracker and naturalist, Sue Morse, who offered an educational and entertaining program, which combined personal observations with hard science, along with a mix of animal calls and extraordinary photography.
The purpose of the program was to familiarize the audience with one of the region's most elusive creatures, the bobcat, and the extraordinary landscape it calls home.
The event was sponsored by the Northeast Wilderness Trust, a Vermont-based organization responsible for conserving over 8,500 acres of wild lands throughout the northeast, since 2002.
Although the organization has maintained a relatively low profile in the Adirondacks, their mission involves a comprehensive effort to create and conserve a series of linked wild lands that will permit wildlife to reestablish migration corridors throughout the vast, Northern Forest, which encompasses existing boreal forest tracts from New York to Maine and beyond into Canada.
The concept of a 'wildway' is based on the science of wildlife corridors, which have been verified by observtion of the annual migrations of numerous species,ranging from birds to fish to game animals.
In a sense, the fish-ladder on the Boquet River at Willsboro is a wildway. The structure was established to allow landlocked Atlantic Salmon to utilize traditional migration routes to access their historic spawning grounds upstream.
After the combination of mill dams, poor water quality, and overfishing had essentially extripated the species from most area rivers by the late 1960's, an aggressive, restocking program, combined with major cleanup efforts and a new fishladder allowed the king of sportfish to pass beyond the remnants of an old mill dam to return to their historic upstream domain.
Joe Hackett is a guide and sportsman residing in Ray Brook. Contact him at brookside18@adelphia.net.
(Continued on Next Page)
Prev Next
Vote on this Story by clicking on the Icon