Saranac Lake — Unless Trustee John McEneaney files an independent petition, there will definitely be a new member of the Saranac Lake Village Board of Trustees in April, as Republicans Jan. 31 overwhelming chose a newcomer to represent their party in the spring election.
Mark Gillis, owner/operator of the brokerage firm Hudson Valley Capital Management, is a newcomer in more than one sense of the word, politically and geographically. If successful when voters head to the polls March 20, this would be his first time as an elected official, and he moved to Saranac Lake with his family only six months ago.
When Saranac Lake Republican Party Chair Ray Scollin read the results of the caucus vote in the village offices at the Harrietstown Town Hall, it was clear that members wanted a change. Gillis and incumbent Jeff Branch easily won the Republican nod, taking McEneaney off the ticket he represented four years ago to win re-election. Branch received 21 votes, while Gillis and McEneaney tallied 19 and five, respectively.
Each of the three candidates gave brief speeches before members voted by secret ballot.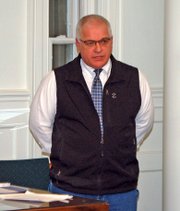 McEneaney stressed his record over the last four years, which were difficult for him at times, especially during the first two years of his current four-year term.
"We built consensus when we could, but, to be honest with you, there wasn't a lot of consensus," McEneaney said. "And the only people that really suffered … were the residents of the village of Saranac Lake."
Things changed, however, when the current board formed two years ago.
"The board that sits right now is extremely committed to the village of Saranac Lake," McEneaney said. "We disagree still on issues, but when the vote is taken and a decision is made … those who might have disagreed simply get on board and make whatever the decision is happen."
(Continued on Next Page)
Prev Next
Vote on this Story by clicking on the Icon