continued — Connecting her site with others, like the Saratoga and North Creek Railway site, is also important. The mountain's 6,364 Facebook friends are offered contest and notices about the mountain, and Stanton said this effort helps to develop relationships with skiers. Gore aims to be part of a family's culture and build long-lasting connections to the region.
"What's beautiful about skiing — it's something you stick with for a lifetime," said Stanton.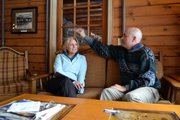 New owners making Garnet Hill Lodge their own
Business is brisk, said Don Prueninger and Mindy Piper, especially for weekends.
The couple, who took over management of the lodge in December, said their guests and the community are treating them well.
The Lodge kitchen was closed for awhile, so people are coming up to try the food there after missing out earlier. They've also got year-over-year bookings from people who made reservations last year and are preparing to come back next.
Although he renamed the bar in the back corner Prueninger's, the new owner is mostly working on background tasks, like bookkeeping and legal papers, while Piper leads the personalization effort.
Piper said she especially enjoys the stories shared by people when they visit. She moved historical photos all around the place so people can note them. It's a way for her to hear more about the lodge's history.
"I'm getting a sense of what makes the lodge tick," she said. "It has a heart and soul. The people who come here have a story that gives me a snapshot of what makes the place special."
One big change is taking the dining area from the porch to the main room. The lodge was set up more cafeteria style, said Piper, and it didn't feel like going to dinner.
They're also working to create more intimate areas for people to have conversations in.
Vote on this Story by clicking on the Icon