continued — "He (Brock) came down the day before and sat here and we just talked for a couple of hours," Connor said. "He just kept saying that this was the best place in the world for me to be and that I should not be worried. He also kept telling me to look where he is now, I mean, he's back out on the soccer field and doing everything, and that I was going to be there soon and get to be a normal kid again."
"Brock was as happy when this was over as anyone," Smitty said. "They have a real special bond after going through this."
"Brock loves him more than anything," Mitchell added.
"He has been a great patient and both boys and the family have just been great," Heather Bastardi, a heart transplant coordinator at the hospital, said. "It is not common at all for this type of situation to happen, and it has been great to watch both of their stories unfold. They definitely have different personalities, and their parents have been great through all of the difficulties that they and the kids are dealing with."
Marvin slowly returned to the normal life of a high school student, returning to Elizabethtown-Lewis Central School April 23.
"It is a lot more refreshing than the big buildings and pavement, my home is the small buildings and the grass," Connor said at the time. "Boston's a great city, but it's no Elizabethtown."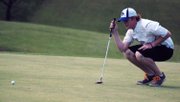 Marvin also returned to the golf course, where he was a key member of the Elizabethtown-Lewis Lions' second place finish at the Section VII golf championships, the highest finish in school history. Both Connor and Brock made it to the second day of the tournament with a chance to make the team that would represent Section VII in the state tournament. Brock made the team with a two day total of 169, while the stress and strain of the Westport Country Club layout and he continuing road to recovery caught up with Connor, who finished with a two-day score of 176, four shots off the pace for a state spot.
Vote on this Story by clicking on the Icon