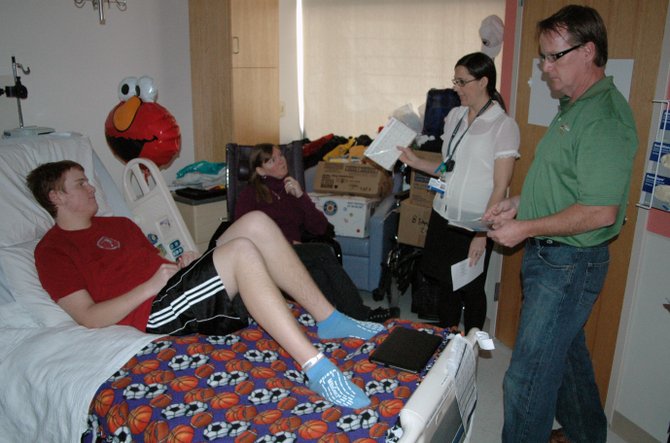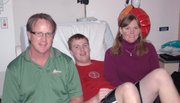 Elizabethtown — Over the past two years, two brothers have received the gift of life from anonymous sources.
In December of 2010, Brock Marvin received the heart he desperately needed at Boston's Children's Hospital. His brother, Connor, witnessed the ordeal, knowing that he, too, would be in that same position.
Late in 2011, Connor started his time at the hospital, waiting for the call to come that he would also be the recipient of a heart transplant.
At around 4:30 a.m. on Thursday, March 1, Connor underwent that heart transplant surgery.
A short time later, the Valley News visited Connor and his family at the hospital. Marvin's room on the eighth floor of the hospital was a revolving door of medical staff, as he spent the day March 8 learning about infectious diseases and the medication that he would have to take, some for the next few months and other for the rest of his life.
"The biggest issue has been adjusting to the medications and just the pain after the surgery," Marvin said. "The first couple of days, I could not get up on my own."
"He was so out of it those first days," Connor's mother, Darlene Mitchell, said.
Connor said the biggest challenge through it all was the time that he spent at the hospital waiting for the heart to come in.
"That was the big difference," Walter "Smitty" Marvin said. "He had to be here for three and-a-half months, and Brock only had to be here 11 days."
"The wait definitely was the hardest part about everything," Connor said. "In reality, 105 days is a normal time frame but in comparison to my brother, that was a long time."
Connor said his brother Brock had been a key inspiration in his recovery. Both boys suffer from a rare inherited heart condition known as familial dilated cardiomyopathy.
(Continued on Next Page)
Prev Next
Vote on this Story by clicking on the Icon