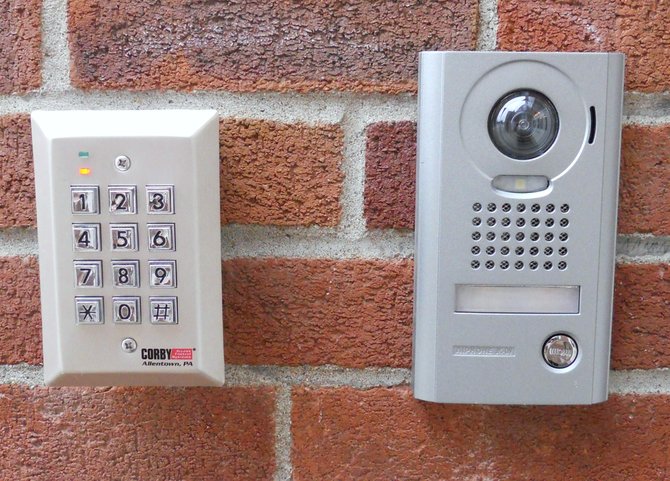 continued — "These precautions are about safety and security, preventing people coming in our schools without a purpose," said Jackie Hazlett, Lawson's administrative assistant. Hazlett is among the staff members who operate the high school security monitor system through an interactive console on her desk.
"All employees have been instructed to keep their eyes open for anyone without a pass or an identification badge," she said, noting that after dealing with the security monitor system, visitors have to sign in. "The staff members have been told to escort such people to the main office."
She said that although stringent security measures have been in place for about a decade, they were tightened this year with the addition of the new devices.
"Mr. Lawson felt the security monitors provided an additional layer of security," she said, explaining that the video camera can be aimed in all directions so a person can be examined from head to toe — and details can be scrutinized with the zoom feature — while the door remains locked.
The security monitors and locked-door policy are active between 8:15 a.m. and about 2:40 p.m., Lawson said, noting both monitor devices cost the school district about $14,000.
Lawson cautioned that no security measure provides absolute safety, but every practical precautionary measure is in force.
He said school staff and administrators were shocked and deeply saddened over the massacre at Sandy Hook Elementary in Newtown Ct., an incident in which officials say Adam Lanza likely shot his way into the school through a locked glass door at the front entrance.
"It's a travesty that something of this nature could happen," Lawson said. "No one ever imagined that such a massacre could occur in this nation — elementary schools have always been a kind of sacred space."
Lawson said he and other school officials were continuing to examine various safety measures.
"It's good that our schools have the safety monitors and precautions in place, but it's truly unfortunate that such items are necessary in this day and age."
Vote on this Story by clicking on the Icon