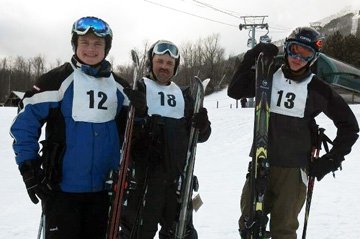 Wilmington — Special Olympian athletes are practicing on White Face Mountain as their final training session together before they athletes compete in 2013 Special Olympics World Winter Games in South Korea.
Over 151 athletes from 37 states with the help of 60 area volunteers were in the Wilmington and Lake Placid from Dec. 11 through the 14. The athletes were coasting down the slopes at Whiteface, skating at the Olympic ice rink, and cross country training near the ski jumps.
"This is the only time they train together with their fellow athletes in their sport or as team USA before heading off to world games," Kimberly Purdy, director of communications for special olympics team USA said. "It's interesting you bring all these athletes in from different states and they go from what we call state mode to sport mode they come in and representing their state to representing their USA."
Purdy said we were thrilled to be here the athletes were very excited to train at the former olympic site. The coming together of the athletes was the first time that team USA Special Olympics has come together as one prior to the 213 games.
"The athletes and coaches were chosen months ago and the athletes work with coaches in their own state," Purdy said. "But when you go to world games you have a world games coach so this is truely the first time all of us have come together. It's been an amazing week.
Athletes came from all over the county to practice. Linda Mills Director for the Special Olympics in Broward County Florida, said the opportunity for her athletes was great.
"Whiteface was the largest mountain they've skied, its more scaled to the mountains they are going to see in Korea." Mills said.
In the athletes home state, training consists of sand and ocean views as opposed to the snow and mountain views in Wilmington.
(Continued on Next Page)
Prev Next
Vote on this Story by clicking on the Icon