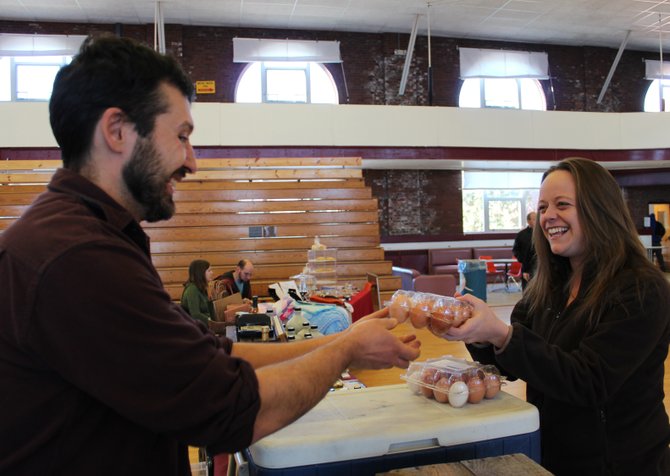 This also prevents the animals from grazing the grass too low, which can damage it.
But Asgaard Farms is just one of the vendors at the farmers market.
Craig Lucia visited the market for the first time last weekend with his wife, Susan, who was interested in learning more about grass-fed beef.
Craig picked up a bottle of wine from Stone House Vineyard, and Susan bought a bottle of maple syrup from Parker Family Maple Farm.
Susan said she attends the summer farmers market regularly, and just recently started attending the winter one.
"It's natural and organic, and it's local," Susan said. "I keep a garden at home in the summer, so I like to support this."
There are some things available that aren't pulled directly from the earth, too.
Straying from the farmer fold, The Skinny Baker brings an assortment of baked goods—like scones, cookies and muffins— to sell at the market.
The Keeseville-based bake shop recently made all of its products gluten free.
The shift began last summer, and was completed recently.
"It's opening up to the fact that more of the people having the celiac problem can have something that resembles something normal," said Bob Zoeller, husband of Skinny Baker's owners, Christa Zoeller. "Everything is handmade and fresh, that's why it's so good."
The winter farmers market is held at the City Recreation Center at the Old Base Oval in Plattsburgh, from 10 a.m.-2 p.m.
It will take place Saturday, Dec. 22, and then will take place the second Saturday of every month through April.
The summer farmers market will begin Saturday, May 11 at the Durkee Street pavilion and will continue weekly throughout the summer.
Vote on this Story by clicking on the Icon