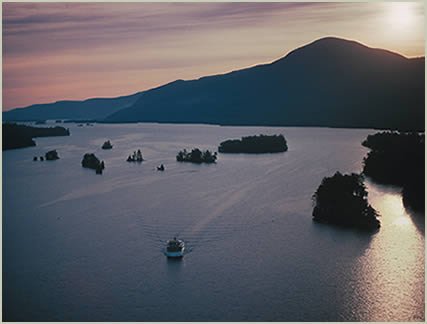 continued — • $465,000 to construct a pipeline to the Glens Falls sewer plant for Ames Goldsmith Corporation's wastewater in order to treat their nitrate-laden effluent.
• $50,000 to Davidson Brothers Brewery to expand their craft beer brewing operations in Glens Falls.
• $125,000 to Warren-Washington counties ARC towards construction of a kitchen and cafeteria at their Queensbury location — to be used as training site and for distribution of agricultural products from Warren, Washington and Saratoga counties.
Regional grants are generous
Awards of regional interest include:
• $2 million to Adirondack Economic Development Corp. in Saranac Lake for their regional Community Transformation Tourism Fund which loans money for tourism-related ventures throughout the North Country.
• $1 million for an elevated boardwalk through the woods with interactive exhibits at the Natural History Museum of the Adirondacks, Tupper Lake.
$2.5 million for the Municipal Water & Wastewater Infrastructure Support Fund for municipal water, sewer and road upgrades — with communities participating in setting their own priorities.
• $1.7 million toward broadband connections worth $2.1 million that would serve most hamlets in Hamilton County where none previously existed.
• $108,000 to the to the Adirondack Association of Towns & Villages for development of an Adirondack Park recreation web portal to promote tourism and recreation in the Adirondacks.
• $465,000 towards construction and equipping of a new $1.3 million, 7,500 square-feet slaughterhouse and retails outlet at Ticonderoga's Adirondack Meat Co., a project expected to provide a new market opportunities for farmers raising livestock.
• $1.75 million to International Paper's Ticonderoga mill for conversion to natural gas.
• Upgrades worth $221,073 to Adirondack Mountain Club's Wilderness Campground at Heart Lake, including new tent sites and lean-tos, well, washhouse and septic. The campground hosts 75,000 visitors annually. The grant includes renovations to the High Peaks Information Center.
• $1.37 million for installation of broadband connections in the Long Lake area.
• $150,000 to Adirondack Lakes Center for the Arts at Blue Mountain Lake for their summer theater festival touring throughout the Adirondacks, presenting 60 performances in 20 towns, featuring local actors and musicians apprenticing with professionals.
• $243,493 to the village of Fort Edward for their Canal Street Farmers Marketplace project, which involves redeveloping a historic canal building into a permanent regional farmers market for produce grown in Warren, Washington and Saratoga counties.
Statewide, a total of $738 million was awarded for 725 economic development projects.
Vote on this Story by clicking on the Icon