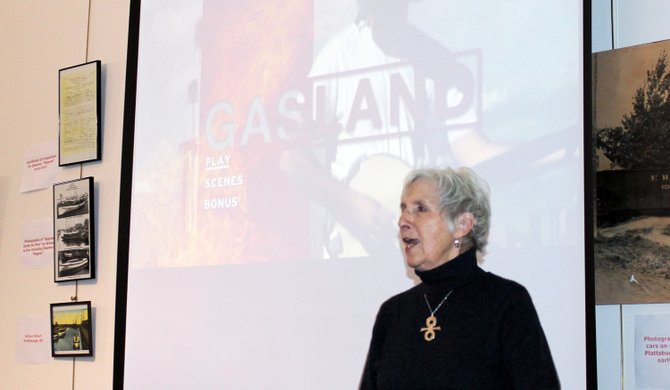 continued — She added that, even though hydrofracking will never occur in the North Country, people in the region should still be concerned.
"I think we should join our voices to the voices of the people in the areas that are being affected," Shevo said. "I think the stories about some of the people in the areas where fracking is actually going on should make us stop to think. Pollution does not stay put."
The recent "Gasland" showing marks the fifth time Shaun O'Connell has seen the movie.
"I came tonight to show my support for the League of Women Voters showing the film," O'Connell said. "It's so important for people to see this film. It can change your life—it actually changed mine."
O'Connell said the movie has inspired her to become more environmentally aware, and to educate others on the environment, too.
"I went from someone who has never done anything political in her life into an environmental activist," O'Connell said. "It was a wake-up call. I've always been waiting for someone else to take care of it, but no one else is going to take care of it."
The Plattsburgh League of Women Voters hydrofracturing study committee will meet on Jan. 9 at 10 a.m. at Sally Sears-Mack's home. All are welcome to attend. For information, call her at 561-7199.
Vote on this Story by clicking on the Icon