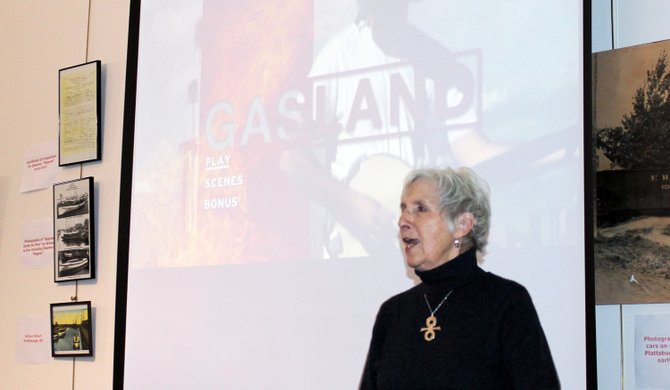 Plattsburgh — A recent showing of the documentary "Gasland" sparked a discussion at the Plattsburgh Public Library.
The 2010 film follows director Josh Fox as he travels the United States interviewing people who live in locations where hydraulic fracturing, also called hydrofracking, a method of extracting natural gas by injecting chemical- and sand-laced water deep into the ground, is occurring.
The Plattsburgh League of Women Voters sponsored the event with People for Positive Action, another Plattsburgh-based group.
The showing took place Nov. 14, less than two weeks before the New York State Department of Environmental Conservation announced that it would be unable to meet a Nov. 29 deadline to propose new rules regarding hydrofracking in New York State.
The agency said it will not make a decision until the Health Commissioner completes its review of health impact data
Failure to meet the deadline means it could be another six months before a decision to allow or ban hydrofracking in New York State is determined.
In the meantime, the DEC will open hydro fracking to 90 days of public comment, starting Dec. 10.
Hydrofracking on the east coast involves removing the gas from between the layers of the Marcellus shale deposit, an underground swath of shale bedrock that extends from West Virginia to Albany and Syracuse.
Hydrofracking is currently not permitted in New York State, but it is allowed in other states, including Pennsylvania.
Sally Sears-Mack, president of the Plattsburgh League of Women Voters, introduced "Gasland" and said she hoped to raise awareness on the environmental concerns associated with hydrofracking and to encourage discussion on the topic.
After the movie, there was a question and answer session with Clinton Community College geology professor Gary Henry. He is also the advisor to the Plattsburgh League of Women Voters hydrofracking study group.
The first query posed was whether or not there is another side to the hydrofracking story that isn't represented in the film, which portrays the practice as detrimental to environmental, and human, health.
(Continued on Next Page)
Prev Next
Vote on this Story by clicking on the Icon