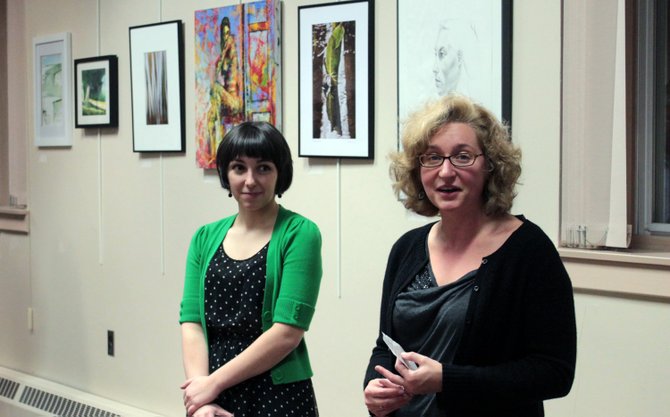 Plattsburgh — More than 40 artists will have their work on display through Jan. 12 at the North Country Cultural Center for the Arts annual Holiday Member Show.
The opening reception took place Friday, Dec. 7, and gave attendees an opportunity to meet some of the artists and get first dibs on purchasing local artwork.
The event also marked the unveiling of two new developments at the NCCCA — the gallery's brand new floor and the transformation of the gift shop into a library.
Artists at the opening mingled with the crowd and often commented on the wide variety of mediums on display, which included ceramics, stained glass, jewelry, photography and paintings.
Most of the art at the Holiday Member Show is on sale, and, because of the holidays, can be picked up Dec. 20.
One of the artists whose work is on display is photographer Ron Nolland, who can often be found at places like Ausable Point, where he enjoys an endless supply of subjects for his nature-inspired photographs.
Nolland has been a member of NCCCA since 2005 and has three photos on display at the holiday exhibit.
The body of his photographic work reflects the scale of nature—from the expansive wetland at Ausable Point to two fern fiddleheads bending toward one another.
"Everything I do is abstract and nature photography," Nolland said. "I love water, landscapes and close ups."
Nolland, who started shooting about nine years ago, quickly fell in love with capturing images.
Now, with photographs on display at NCCCA, Stonybrook Gallery in Morrisonville and the Plattsburgh International Airport, it is safe to say it has evolved into more than a hobby.
"I'm often on photo websites, taking inspiration from advanced hobbyists and enthusiasts," Nolland said. "I like to look at what non-professional photographers are doing."
Nolland likes the sense of community amongst his fellow semi-pro photographers, and it is that community feel that Janine Scherline, executive director for the NCCCA, said the arts center is trying to create in the North Country.
(Continued on Next Page)
Prev Next
Vote on this Story by clicking on the Icon