6
Front office drama at LPCS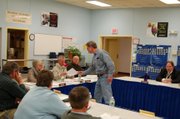 Accusations, lawsuits and contentious public comment were the norm for the first part of 2012 during Lake Placid School Board meetings. It ended with a settlement in the lawsuit, filed by a former principal, and the non-renewal of Superintendent Randy Richards' contract.
From the story: "I intend to leave the Lake Placid Central School District at the end of the 2012-2013 school year as the Board of Education indicated that they will not be renewing my contract," Richards wrote...
On May 1, the school board approved a $65,000 budget transfer toward a settlement agreement with an unnamed individual after Mulderig had announced in April she would be leaving her position.
Through multiple platforms, community members rallied support in favor of Richard's resignation since the incident with Mulderig became public.
Vote on this Story by clicking on the Icon