8
The race for H-town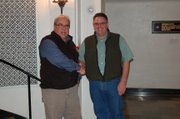 The election season saw an on-off-on race for the position of Harrietstown Supervisor between Tom Catillaz and Bob Bevilacqua, in which the latter won the position for one year, when many feel there will be a re-match at the polls.
From the story: "It was a good campaign," Bevilacqua said. "We didn't get sucked into any back and forth battles or anything. We just stuck to the message and I had a heck of a team behind me … and I think that's how I came out on top..."
"I think he did a very good job and he'll do a very good job, and I wish him the best," Catillaz said. "We will work together."
Catillaz said it's too soon to know whether he'll run for supervisor again in 2013.
"It's a long way away," Catillaz said. "No commitment now. I'm still reeling from this. I'm exhausted."
7
Missing LP man found dead
A five-day search for a missing Lake Placid man did not have a happy ending, as the body of 34-year-old Seth Kilburn was found within 1,000 feet of his possible destination Aug. 17. Neighbors were shocked by the news.
From the story: "I'm sure he took (the path) many times in his youth and at night, if you take the path and veer slightly on either side, there are drop offs in excess of six feet," Lake Placid Police Chief Bill Moore said. "I think he got off his path slightly, and we believe the cause of death to be accidental..."

For Travis Hudson, who lived at the home next to where Kilburn was discovered, the experience was very unreal.
"Yesterday I was up picking berrys and I didn't see him, but I wasn't looking," Hudson said... "I thought it was an animal or trash cans but it really didn't click until today. Shocking to be that close and yet have no idea."
Vote on this Story by clicking on the Icon