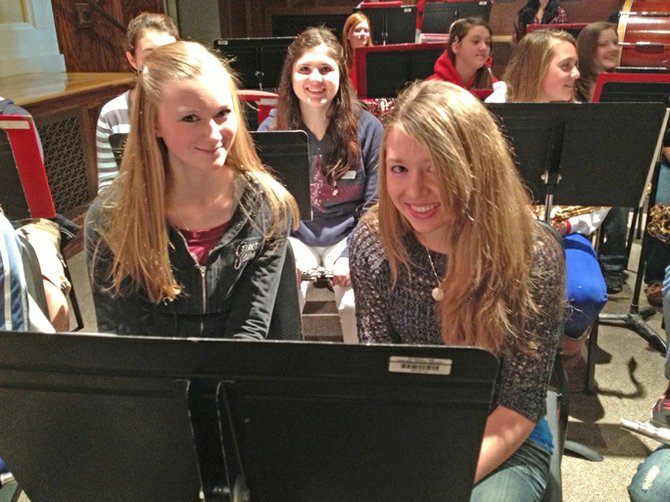 continued — The group was directed by Anita Masiello and accompanied by Mike Tracy.
The grades 7-12 chorus included Austin Armstrong, Cole Anauo, Katie Botterbusch, Dezore Cleveland, Jordan DeZalia, Kiana Fiore, Samantha Grey, Meghan Hedden, Sarah Jarrell, Ashlyn Lough, Brian McCoy, Tiffany Nolan, Dejanira Plumstead, Mickael Stout, McKayla Vanderwalker, Brooke Wheeler, Liam Wilson, Christopher Barror, Mitchell Beers, Juila Bouchard, Kerstin Decker, Miranda DeZalia, Samuel Foote, Branden Hall, Rhiannon Hoffman, Joelle Kowalka, Ian Lowe, Destiny McCoy, Lindsay Palmer, Chris Podmore, Natalia Stout, Abigail Veverka, Clare Whitney, Megan Wilson,
Danielle Barror, Abigail Belrose, James Bowen, Alexis DeZalia, Brandon Dugan, Marissa Gero, Megan Hall, Amanda James, Jaci Labatore, Caleb Maisonville, Chloe McKenna, Daniel Parent, Tony Ramirez, Morgan Thatcher, Shanna Webster, Levi Williams, Nathan Wilson, Alora Bearor, Brianna Berton, Cory Britt, Brianna Dezalia, Juliana Finnerty, Amanda Grey, Gabrielle Harvey, Ruth Jabaut, Desiree Lanoue, Emily Maisonville, Autumn Moses, Cheyenne Parker, Jade Rule, Shannon Thatcher, Abigail Welch, Lucas Wilson and Benjamin Wisser.
The group was directed by Anita Masiello and accompanied by Mike Tracy.
Performing in the grades 7-12 band were Julia Bouchard, Samantha Hall, Ian Lowe, Emily Maisonville and Abigail Welch on flute; Katie Botterbusch, Danny Hall and Lindsay Palmer on clarinet; Joseph Foote on alto saxophome; Ruth Jabaut on tenor saxophone; Rhiannon Hoffman, McKayla Vanderwalker, Joseph Demaniow, Brianna Berton and Abigail Veverka on trumpet; Julianna Finnerty, TJ Garcia and Clare Whitney on French horn; and Jonathon Jung, Shannon Garland, Brandon Dugan, Jordan Finnerty and Shawna Fiore on percussion.
The band was directed by Mike Tracy.
Vote on this Story by clicking on the Icon