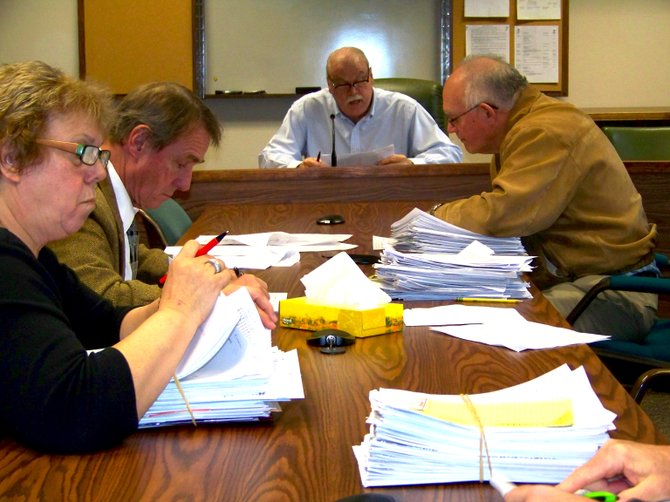 continued — In divvying up the occupancy tax money Dec. 10, county leaders allocated a total of $391,500 to help bankroll local events that are expected to bring overnight visitors into the area.
A committee of a half-dozen county supervisors took several hours to decide on the sum for each sponsoring organization.
Requests submitted approached $700,000, and the supervisors determined the grant sums in two rounds of consideration, amending a subcommittee's initial recommendations.
Major events receive support
Two of the county's five major events in terms of overnight overnight stays — Americade motorcycle rally and the Adirondack Hot Air Balloon Festival, received $50,000 and $25,000 respectively.
Two other main events had their funding reduced —the state high school boys basketball championship tournament received a grant of $30,500, or $2,500 less than their request to match last year's level. The Warrensburg Chamber of Commerce was awarded $19,000 for their World's Largest Garage Sale event, a reduction of $1,000 due to their 2012 sale operating $400 under budget.
The Adirondack Nationals Car Show, which annually attracts capacity crowds to Lake George for two days, received $27,500, an increase of $2,500 over 2012 to help bankroll their 25th annual show in 2013.
Centurion Cycling, which received $20,000 last year, had their $15,000 request reduced to a grant of $11,500, because the group had a carryover of funds from last-year's bicycle event, downsized after their 2012 request was made.
The Hudson Valley Volunteer Firemen's Association convention, funded with $20,000 or more in the past, was granted $17,500 despite a request for $40,000 and a claim that the group's massive parades and conventions generate 10,500 "bed nights" in the area. The group is going to hold a convention in Queensbury rather than Lake George as has been traditional.
New appropriations slated
The Hyde Collection was granted $18,500 to help publicize their new exhibit, "Modern Nature: Georgia O'Keeffe & Lake George," which is expected to draw people from around the world, generating a predicted 5,050 bed nights.
Vote on this Story by clicking on the Icon