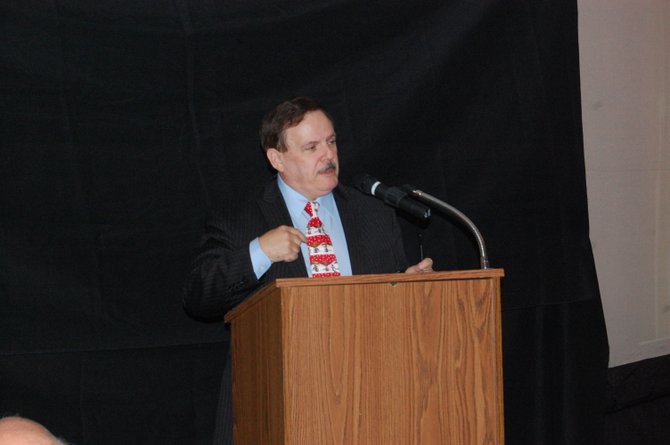 Plattsburgh revolved around Margaret Street and city police officers toted around bags of nickels to put in expired parking meters. Out-of-town vehicle owners would then find a note thanking them for shopping in Plattsburgh and explaining that the money had been donated by downtown merchants.
"I am proud to be part of this community and proud of the chamber and what it is today," Giltz said.
Krueger, again assuming the identity of Hall, stressed that Canadians are more than tourists, but are also business people who aspire to open businesses in the area.
In 1955, Canadians spent roughly $15 million to $20 million in the North Country. Today, that figure is estimated at $1.5 billion annually.
"Please be nice to these people," Krueger insisted.
Helen White was the first female chair of the Chamber's Board of Directors in 1988, followed by Hope Coryer in 1989. Coryer continues actively support the Chamber.
"Moving from downtown Plattsburgh to Route 9 was very controversial and members left because of it, but it recognized that the chamber was more than just a Plattsburgh chamber," Coryer said. "Another big deal was to become politically involved with issues that impact the business community, and members left then."
Krueger recalled when local leaders fought, to no avail, to save the Plattsburgh Air Force Base, which closed in 1995.
"But we made the best of a bad situation, and it is an example of economic development."
The world did not end in 2000 with Y2K, Krueger joked, but since then there has been the Port of Excellence at the border with Quebec on Interstate 87 in Champlain, the birth and continued evolution of Plattsburgh International Airport and the new Tourism Destination Master Plan.
"And now, in 2012, we can all fly direct to Las Vegas," Krueger grinned. "It doesn't get much better than that."
Douglas, explaining the time capsule that will be opened at the 200-year anniversary, said he doesn't know what the chamber will look like in 100 years, but it will exist.
"There will always be issues and things that need to be done," he said. "We play a leading role in a growing sense of regionalism, and we must grow and increase as a suburb of Montreal."
Vote on this Story by clicking on the Icon