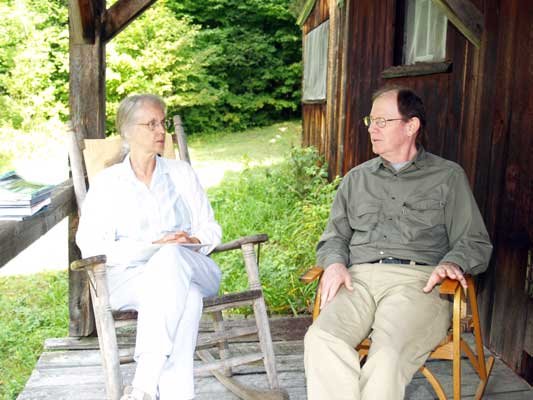 An interview with Ed Zahniser of Bakers Mills and Shepherdstown, West Virginia adds a new subject to the archives of the Johnsburg Historical Society: the connection between the Federal Wilderness Act of 1964 and two Adirondack men with camps in the Town of Johnsburg. Evelyn Greene interviewed Zahniser at his cabin on Edwards Hill Road on Aug. 15, 2012. This interview is part of JHS' Living History project, and is stored at the Society's research library.
The landmark legislation was the brainchild of Howard Zahniser, Ed's father, who was regarded by many as "the hero of wilderness." When the act finally became law after many years of roadblocks, Congress was enabled to designate wilderness areas on federal public lands. Nine million acres were protected in the original act, and today 110 million acres are protected under this law.
The story of the 1964 Wilderness Act begins in 1946 when Howard Zahniser met Johnsburg's Paul Schaefer (father of Evelyn Greene) in New York City. Schaefer was speaking to a large group about the "Black River Water Wars" and the troubling proposal to build more than 40 dams in the western Adirondacks. The dams would have flooded wildlife habitat and forest preserve lands which were protected under the New York State Constitution.
Schaefer invited Zahniser and his family to Schaefer's cabin in the Eleventh Mountain area of Johnsburg. Like so many visitors to the area, Zahniser was seduced by the loveliness. On a hike with Schaefer in the High Peaks from Heart Lake to Tahawus and to the falls on the Opalescent River, Zahniser was impressed with the natural beauty. He remarked to guide Ed Richard that the federal government needed legislation similar to New York State's Article 14, Section 7 "forever wild" clause.
And Zahniser was just the man to begin moving the country toward federal legislation to make wilderness protection permanent.
(Continued on Next Page)
Prev Next
Vote on this Story by clicking on the Icon