"If we had not had this jump, we would have been in trouble," Holderman said.
6
Farewell, 'Sid the Kid'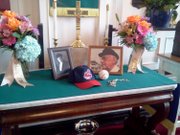 One of the most beloved figures in the North Country, cartoonist Sid Couchey, passed away March 11 in Inman, S.C. He was remembered by friends and family at a June 23 memorial service in Essex.
From the story: "We had many opportunities to talk together, laugh together and pray together," Rev. John Hunn said. "He once told the members of a Meadowmount ensemble that he was thankful they had come to church because they lowered the average age of the congregation from 80 to 70. It has been a delight to know Sid and to have been his pastor."
Charlie Lewis spoke of his rendition of the Lake Champlain monster, Champy.
"It will warm the hearts of local residents and people worldwide as long as the water crests on Lake Champlain."
"His relaying of amazing stories always had us in stitches, and his delivery was magical," Ronnie Hollingsworth said.
Vote on this Story by clicking on the Icon