10
Bruce the Moose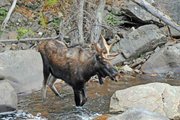 The simple euthanasia of a moose in the Wilmington Notch turned into a firestorm of protests and defending the decision to kill the injured animal, which earned the name Bruce the Moose.
From the story: "Certainly euthanizing the moose wasn't the outcome we wanted or hoped for, but it ended up being the most humane choice for the moose," Lance Durfey (of the Department of Environmental Conservation) said.
"We were hearing that people didn't think what was done was right or they were angry the moose had to be euthanized, but what was done was part of the protocol for our department," Durfey said. "We get involved when wildlife is impacting people, it's one of our department's responsibilities."
"The question is was there were any alternatives? They didn't ask if there were any alternatives," Pam Smith said. "What's the difference of them taking him out sedated or dead?"
9
Junie meets donor family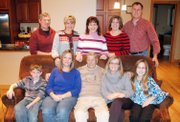 Harold "Junie" Tart of Essex was given the gift of life when he received a liver transplant, while another family grieved the loss of a loved one. Almost a decade later, the two families came together in Willsboro.
From the story: On Nov. 2, Leslie Cowty and Lisa Szewczyk landed at the Burlington International Airport, just moments after Linda Buttery, another of Tart's daughters.
"We met, hugged each other and immediately started sharing," Buttery said. "It was really awesome. I am a gabber, especially when I get nervous, and we just talked and talked."
Over the next three days, the two families got to know each other, talk about Linda Reilly and the life that Junie Tart has had thanks to his new liver.
"I feel a lot better because I feel that her liver went to the perfect person," Cowty said about Tart. "He is hilarious, a super down-to-earth person and has an amazing family."
(Continued on Next Page)
Prev Next
Vote on this Story by clicking on the Icon