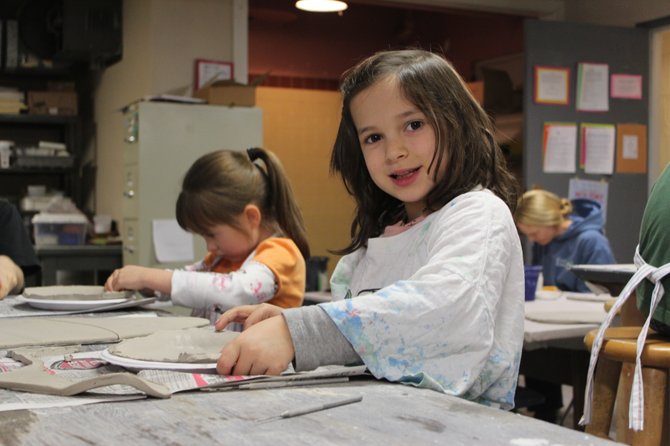 "This is a good supplement for classes being cut," Piche-Smith said. "Today we had an entire time slot for ten students. A place like this can encourage kids. It's another way to expose children to the creative process."
The holiday workshops at the NCCCA aren't the standard holiday craft fare—there are no macaroni and glitter encrusted paper plates, there is not a single construction-paper snowflake—they instead provide an introduction into a variety of artistic techniques and mediums.
"The people that work in this room are highly qualified people," Piche-Smith said. "It's a great resource, and all the materials and firing are included."
One of those highly qualified people is Jackie Sabourin, who said that art is important in society and in people's lives because it can offer reflection and be a source of joy when things become difficult.
Sabourin added that no one should be afraid to try making art, and that anyone can have a meaningful relationship with art, regardless of skill level.
"It's like walking down the street and seeing a beautiful tree," Sabourin said. "You don't have to be a great artisan to appreciate that."
Sabourin is a volunteer arts and education coordinator for the center, a position that includes lending her artistic know-how to workshops like the recent one on making ceramic cookie plates.
Sabourin has been with the NCCCA since its inception—she and a small group of local artists helped open it in 2000.
"I decided that when I retired I wanted to promote arts and education in the area," Sabourin said. "Nobody had art classes here, so I decided to write some grants to get an art center."
The center is constantly evolving, and a recent consolidation of its staff, a reduction of nine permanent staff members to four, was made to help increase efficiency and better serve the community.
Vote on this Story by clicking on the Icon