Putnam — Looking for a last-minute Christmas gift? How about property on Lake George?
The Lake George Land Conservancy is selling an 8-acre plot with 350 feet of lakeshore in the town of Putnam.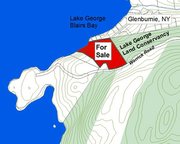 The sale is part of the conservancy's efforts to protect land along the lake.
"The Lake George Land Conservancy continues to explore new ways to protect land," said Nancy Williams, LGLC executive director. "A generous landowner has offered a challenge. If LGLC can find a buyer for one of their three subdivided house lots, the owner will agree to protect the remaining two from development with a conservation easement. That's over 200 feet of protected shoreline and over five acres of land that will remain protected."
The asking price for the lot is $494,990.
"We are very pleased to offer this incredible opportunity for a buyer to purchase one of the few remaining large shoreline properties on Lake George," Williams said. "Enjoy the stunning views of Anthony's Nose from your very private property. The buyer will purchase 8.08 acres of land and over 350 feet of shoreline on a beautiful private cove on Lake George. This property is located in Putnam, just southeast of the community of Glenburnie on Lake George."
The land is located on the north side of Warrick Road and is within walking distance of nearly 900 acres of preserved land including Anthony's Nose, the Last Great Shoreline and Gull Bay Preserve.
More than 99 species of birds inhabit the land with Bald Eagles and Peregrine Falcons nesting on the cliffs of Record Hill, according to the LGLC.
"Working with the buyer, a mutually agreed upon plan will be developed that permits one house site, ancillary uses such as garage, driveway, dock, and viewshed clearing," Williams said. "The remaining land will be protected under a perpetual conservation easement. The easement will prohibit further subdivision, but permit sustainable forestry. This beautiful forested parcel could supply plenty of wood for your fireplace. Three moorings and docks are permitted under the regulations of Lake George Park Commission; however, one mooring-right will be retained by the current land owners."
The property has over 380 feet of road frontage on Warrick Road, a shared driveway, power available within the property and an approved septic area. The town of Putnam maintains the gravel road and plows during the winter. There are recorded protective covenants and a driveway maintenance agreement.
The Lake George Land Conservancy will not receive a commission on the sale.
Interested parties can contact Williams at the Lake George Land Conservancy at PO Box 1250, Bolton Landing 12814 or by calling 644-9673.

Vote on this Story by clicking on the Icon