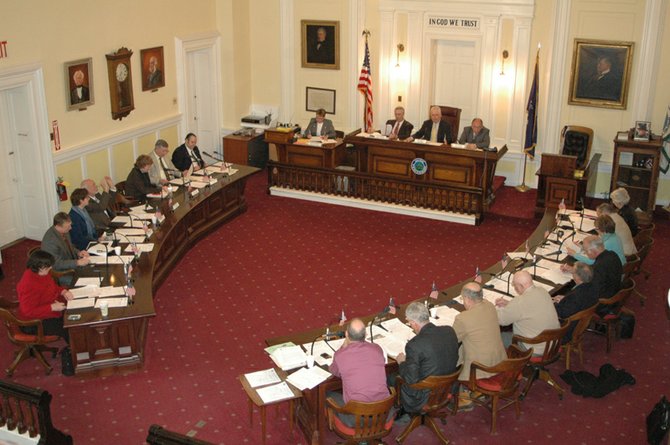 continued — Minerva Supervisor Sue Montgomery Corey said she felt this was a vote of conscious, referring to the vote made on the Horace Nye Nursing Home.
"I think that this is a much bigger vote of conscious than that was because it affects all county residents of all income levels," Corey said. "The vote is weighing which is more important and how do we balance. The things that I have seen over the last week really are worrisome."
Corey also said she agreed with Palmer that a new budget process needed to be followed.
"The budget process that we have been using really is not serving us well," she said. "Our county manager was right. This needs to be a three-year process in order to get us back on the right path."
Scozzafava said he felt depleting fund balance could help lead toa balanced budget.
"It might not be a bad thing if we deplete the fund balance because then we have to make cuts and deal with the real issues," he said. "I fully support this budget and feel confident and using the amount of fund balance that we are. Tax payers are fed up with paying taxes."
"There are items in the budget I don't like but the lesson I learned in accounting is what you do one side of the ledger you do on the other," Willsboro Supervisor Ed Hatch said. "I hope that we start doing that."
"I feel this is an excessive use of fund balance," North Hudson Supervisor Ronald Moore said. "It deserves to be given back in measure to our people."
"I think we need to look at getting serious about downsizing and restructuring," Ticonderoga Supervisor Deb Malaney said.
"Its not the right budget," Chesterfield Supervisor Gerald Morrow said. "No one thought we would come under the tax cap. I have been real discouraged with what has been going on the last two weeks. I don't want to throw one shovel of dirt out only to have three come back on me. All of this stuff to me is totally ridiculous. We tell them they are doing a good job then we take stuff away from them."
When asked his feelings on the changes, Palmer said, "I can't make a bigger statement then I did," referring to his retirement from the position of County Manager.
The board also voted against overriding the states tax levy cap, which they would meet with an increase of 1.13 percent.
Vote on this Story by clicking on the Icon