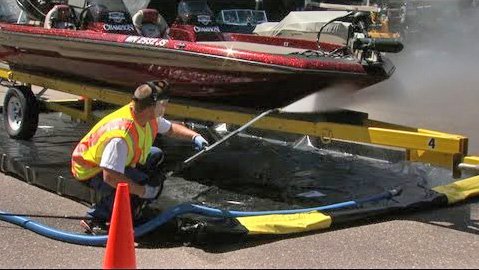 LAKE GEORGE — Concerned about the threat of invasive species spreading in area waterways, Warren County Supervisors serving on two county committees voted unanimously Nov. 30 in conceptual support of a mandatory boat inspection and decontamination program.
Their resolution, subject to approval Dec. 21 by the full county board, directs the county Attorney to draft up a law that requires all boats launched in all the county's lakes and public ponds to first undergo inspection and certification — and when traces of invasives are discovered, the vessels would have to undergo decontamination at a washing station.
The issue was discussed in length at a joint meeting of the county Legislative & Rules and Invasive Species committees.
Lake George Supervisor Dennis Dickinson proposed a moratorium on boats launching in Lake George to stop any additional introduction of species before a decontamination law might be enacted, but the supervisors didn't vote on this further measure.
The committee took action on the mandatory boat washing program after hearing from Lake George Park Commissioner Executive Director Dave Wick, who said that Asian clams are continuing to spread in lake George, despite efforts to eradicate them.
Task forces sponsored by the Lake George Association and the Fund for Lake George have in the past several years set out hundreds of benthic-barrier mats in shallow areas of Lake George to smother the Asian clams, expecting to eradicate them.
But recently, researchers noted that the Asian clams spread beyond the treated areas and were propagating in four new areas, including the vicinity of Shepard Park Beach. This popular swimming venue is now covered with these mats to kill the clams which have sharp edges that can easily injure swimmers.
Wick has urged for months for the Supervisors to boost their funding of efforts to curb Asian clams, and this fall, the supervisors nearly committed $1 million towards an expanded control program, but decided on pledging $270,000.
(Continued on Next Page)
Prev Next
Vote on this Story by clicking on the Icon