WARRENSBURG — The proposed new Warrensburg Health Center complex, to be developed mid-town this coming year, is planned to include a riverside park, a main building with far more exam rooms, and architecture featuring European-style towers with arches and glass.
Local officials said this week the health center complex will permanently transform the downtown streetscape.
Construction on the development, expected to cost about $8 million, is expected to begin this spring.
Richard Jones, the architect designing the new health center, presented the Warrensburg Town Planning Board Nov. 20 with sketches and a site plan. The board received the plan with enthusiasm and compliments.
"This is a welcome addition to our town," planning board chairman Shale Miller said.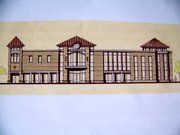 With more than double the present floor space, the health center is expected to accommodate more patient visits and spur the growth of good-paying local jobs, officials said.
The expanded main health center is to be built close to Main St. and Richards Avenue.
The present health center, a former supermarket building located several hundred feet back from Main St., is to be torn down after the new health center is constructed — so patient care isn't interrupted during the construction process.
Plans call for the old health center's site to be developed for parking, now located toward Main St.
The rear of the health center campus is to be developed into a riverside park, Jones said.
"With its excellent vantage points of the river, this relocated park will provide scenic views," Jones said, noting that as many mature trees as possible — including memorial plantings — will be relocated from the their existing sites to the new park.
Jones told the board the center's architecture reflects influences of the historic Holy Cross Episcopal Church across Main St.
He said that the face of the health center would include stonework from locally mined materials.
(Continued on Next Page)
Prev Next
Vote on this Story by clicking on the Icon