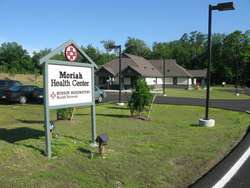 continued — "It can be difficult to recruit (physicians and staff) when there's uncertainly," Shannon said. "People want to know where they're going to work.
"We'd also like to invest in tele-medicine in Moriah," he said. "That means purchasing hardware, monitors, equipment. Obviously, we'll only do that if we are staying in Moriah."
Scozzafava said the Moriah town board will consider the new, longer lease early in 2013.
"The town board has to discuss it," the supervisor said, "but I think everyone agrees Hudson Headwaters has been good for the community."
Hudson Headwaters Health Network is a group of community health centers providing care to the residents in 11 North Country towns, including Schroon Lake and Ticonderoga.
Hudson Headwaters took over the Moriah Health Center, formerly the Mineville Health Center, Jan. 1, 2005. The health center was then in the Moriah Community Building, the former Republic Steel building in Mineville.
The health center that opened in 2008 is a 4,000 square feet building with six exam rooms.
Services at other Hudson Headwaters facilities include routine, urgent and walk-in care; specialty and ancillary services at its larger centers; on-site care in nursing homes, hospitals and home settings; 24-hour call and inpatient hospital coverage 365 days a year; and a range of programs in health screening, tracking, education and prevention.
Vote on this Story by clicking on the Icon