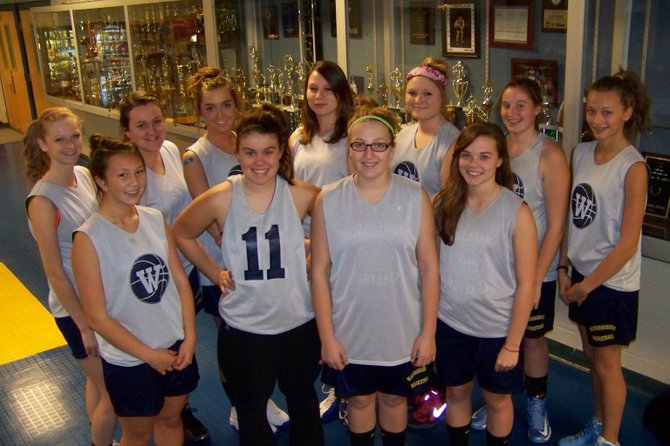 WARRENSBURG — The Burgher Girls Basketball team has been on an upswing in recent years, seeking to recapture the glory of the 1980s when they were dominant in the Adirondack League.
Last year's team had seven experienced Seniors on the squad, several earning All-Star status.
Although these veterans mentored the younger players well, such a large contingent of Seniors in 2011-12 means a lot of positions to fill now, Coach Scott Smith said.
"The Lady Burghers have many new faces on the roster this year," he said. " Nine players are new to the Varsity level this season and will be called upon to play significant roles."
Returning players Chiara Russo, Mika Morehouse and Merissa Hayes will be called on to provide leadership and experience on and off the court for the Lady Burghers this year, Smith said.
Newcomers Erin Langworthy and Liz Turner are expected to provide an effective inside-outside combination on both ends of the court, the coach added.
One of the aspects likely to offer some intrigue is that Korynn Raymond and Braydin Smith, both Seniors, return to basketball after taking several seasons off. They will be called upon to play a big role for the team this year, Smith said.
"Korynn is very athletic and gives Warrensburg substantial speed and height," the coach said. "And Braydin will be asked to shoulder some of the ball-handling responsibilities along with Langworthy."
Kaylene Norton, Catie Baker, Makayla Baker, Amanda Gee, and Aineen Callahan have made many improvements already this year and should make strong contributions off the bench as well, Smith continued.
"If Warrensburg is to be successful this year, we will need to play strong defense, rebound, and push the tempo on offense," he said. "With so many newcomers to Varsity, we are confident that we will continue to improve every day."
CUTLINE: "2012.WCS.GBskB"
The 2012-13 Warrensburg High School Girls Basketball Team includes (front, left to right): Amanda Gee, Chiara Russo, Makayla Baker, Braydin Smith, (row 2): Aineen Callahan, Liz Turner, Korynn Raymond, Kaylene Norton, Mika Morehouse, Erin Langworthy and Catie Baker. (Not pictured): Merissa Hayes.
Photo by Thom Randall
Vote on this Story by clicking on the Icon