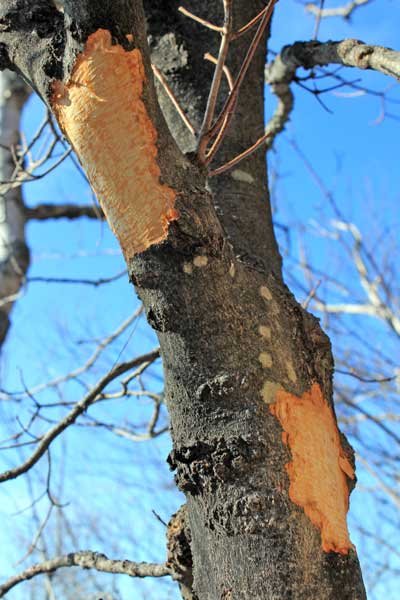 Several times I thought I recognized stretches of trail coinciding with stretches of the old trail. There were definitely some changes, though. Instead of going up and over a small knob the trail skirts it, and it also winds its way up to the notch between the rock outcrop at the end of Jay's ridge instead of charging straight up.
From the notch, one can turn left to clamber up a rock outcrop that marks the western end of Jay's summit ridge, or turn right to continue on to the peak. The outcrop is a worthy destination in its own right, and almost feels like its own little summit.
New trail aside, the hike up Jay still delivers on scenery. I noticed less striped maple, a personal favorite of mine, in the forests I passed through, but I did see a sugar maple bearing the peeled bark indicative of porcupine activity etched into its trunk. Mossy boulders, open hardwood forests and pre-winter icicles also lined the path.
There was also the finale, the view from Jay's open, 3,600-foot summit, which is stunning as always, but my favorite portion of the hike is still the easy one-and-a-half mile ramble along the ridge to the mountain's peak. This part remains unchanged, which makes sense since there simply isn't enough room along the narrow ridge to create an alternate route.
The path here weaves in and out of evergreen islands, with an ever-expanding view emerging from each new expanse of open rock. The summit looms in the distance, getting closer and closer, with the view becoming increasingly expansive as elevation is slowly gained, eventually encompassing Lake Champlain, Vermont's Green Mountains, Whiteface Mountain and too many High Peaks to count toward the south.
The completion of Jay's new trail means the mountain has become more accessible, which is not a bad thing. The thoughtful design and lack of steepness means trail erosion, and therefore the impact of the path on the surrounding forest, will be reduced, and it also means hikers can spend more time checking out the forest, and less time struggling to catch their breath.
Shaun Kittle is a reporter at Denton Publications, editor of North Country Living Magazine and an avid outdoor enthusiast. He can be reached at shaun@denpubs.com.
Vote on this Story by clicking on the Icon