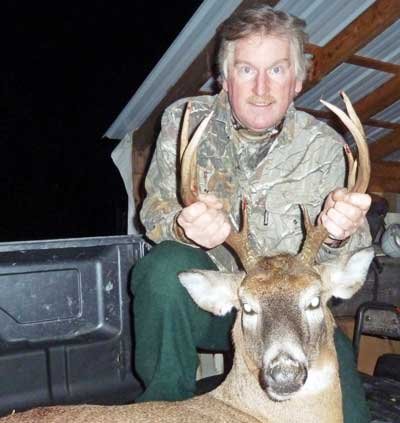 The previous afternoon, I had watched numerous does in the same area and I knew that bucks would be likely nosing around. One by one, the does began to assemble, and eventually a buck made an entrance.
Although I couldn't see it, the does certainly did, and they continued to watch as it edged along in the cover of the thick woods.

With its nose to the ground, the buck followed square on my tracks. Soon, it moved out from the treeline and into the open, directly on my footprints.
I kept the crosshairs of my scope on its chest and steadied my aim. When it stopped and lifted its head, I exhaled and squeezed the trigger.
Does scattered as the shot rang out, and the buck ran off as well. However, it piled up less than 30 yards from my watch. There was no euphoria, and there was no one around to exchange high fives with. It was a simple act that served to reassure me I still retain the skills to be a hunter. Despite the fact that my accomplishment was tinged with the bittersweet knowledge I had taken a life, I was proud of my hunting efforts.

I had put in the time and I was satisfied with a handsome 10 pointer, which sported a large, non-typical rack. However, I was more excited at the prospect of enjoying fresh venison loin for Thanksgiving.
Thoughts on the Forest Preserve
As part of an ongoing effort to better understand both the concept and the conception of the Adirondack Forest Preserve, I have been researching through old journals, periodicals and outdoor magazines from the era of the 1880s through the turn of the century.
Many quotes ring as true in current times, as they did when first set to type in the late 1880s. It appears the battle between preservationist and land developers is as indelibly linked to the Adirondack landscape as the forces of nature. Combined, these manmade and natural forces have served to frame the land as it stands today.
Joe Hackett is a guide and sportsman living in Ray Brook. Contact him at brookside18@adelphia.net.
Vote on this Story by clicking on the Icon