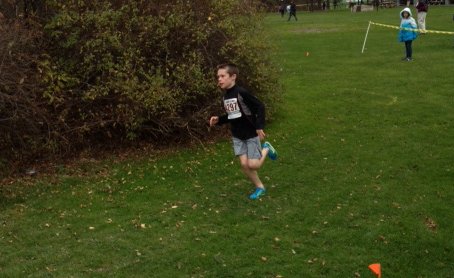 Ticonderoga — Ryan Bush was born to run.
"When he was just a baby we'd put him in a stroller and run," his father, Rick Bush Jr., recalled. "We took him to races all over the area. He's been around running his entire life. It's a big part of our family."
The young runner with ties to Ticonderoga will compete for a national championship Dec. 8 in Albuquerque, N.M.
Ryan, age 8, will run in the USA Track and Field National Junior Olympic Cross Country Championships at Balloon Fiesta Park.
He qualified for the 2,000-meter championship race by winning his class at the Adirondack Region championship race in Saratoga and then taking third place in the New England Region race on Long Island. He hopes to make the top 25 at the national event.
"We're very proud of Ryan," his father said. "He has a real passion for running. He loves the sport."
Ryan is a typical 8 year old. He also plays soccer, basketball and baseball.
"He's involved in all sports," Rick said. "He loves to run, but he really doesn't train. He's not running a lot of miles. We try to pull him back a little bit."
Ryan is looking forward to the championship race and the trip to New Mexico.
"He's really excited," his father said. "For a while he thought he was going to Mexico, not New Mexico. It's neat to see his excitement."
Ryan is the son of Rick and Dana Ostrander Bush, Saratoga residents who spend time each summer at the family's home on Black Point Road in Ticonderoga. He is the grandson of Rick and Mary Bush, both Ticonderoga natives.
The Bush family has a long history in Ticonderoga. Ryan's great-grandparents were Walter "Tuffy" and Elsie (Gallant) Bush and Ed and Kay (Dion) Shattuck. Great-great-grandmother Corina "Queenie" Gallant was a long-time history teacher in Ti and was instrumental in the construction of St. Mary's School.
(Continued on Next Page)
Prev Next
Vote on this Story by clicking on the Icon