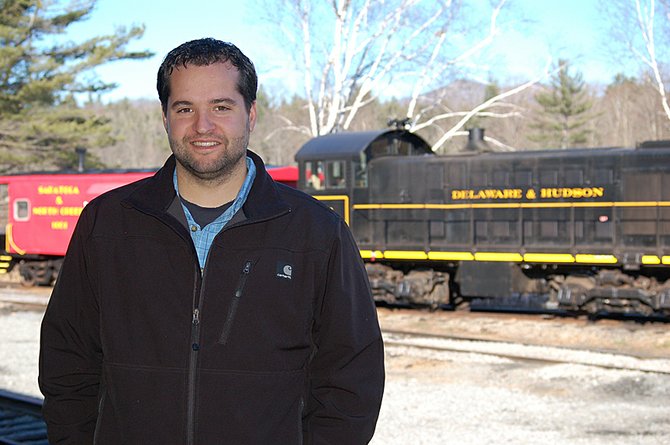 North Creek — Justin Gonyo is carrying on a family tradition. He's a railroad man.
Hired in August as the Saratoga & North Creek (SNC) Railway's general superintendent, Gonyo is following in the footsteps of his father, grandfather and great-grandfather, who all worked for the Delaware & Hudson (D&H) Railway. In fact, Gonyo left a job at the D&H to take this job in his hometown of North Creek.
"Grandpa was the last station agent to work here," said Gonyo, sitting on a bench in front of the North Creek Depot next to the Hudson River. "He's the last one to lock the door for the D&H. He was a trainman and a conductor. He was on the ore trains that came out of Tahawus."
Grandpa was Robert Gonyo (1930-2005), who retired in 1983 from the D&H. Born in the Clinton County town of Beekmantown, he began his railroad career as a telegrapher and ended it as a station agent, just like his father.
Great-grandpa was George Gonyo (1895-1963), who retired in 1952 from the D&H after 39 years. Born in the Clinton County hamlet of West Chazy, he ended his career as a station agent in Chazy, where he'd been for 22 years.
Dad is Tim Gonyo, who lives with his wife, Debby, in Queensbury. He was a trainman and conductor for the D&H, sometimes working on the freight line between North Creek and the Tahawus mine in the late 1970s and early 1980s. He mainly worked on the Third Subdivision for the D&H, Schenectady to Whitehall. When he first got hired, it was in Fort Edward, but North Creek was in the territory that the Third Subdivision covered.
Tim moved to North Creek with his family when his father, Robert, was transferred here in the late 1960s. They both introduced Justin to the railroading life. Justin remembers the last time his father brought him to work when he was 9 years old.
(Continued on Next Page)
Prev Next
Vote on this Story by clicking on the Icon