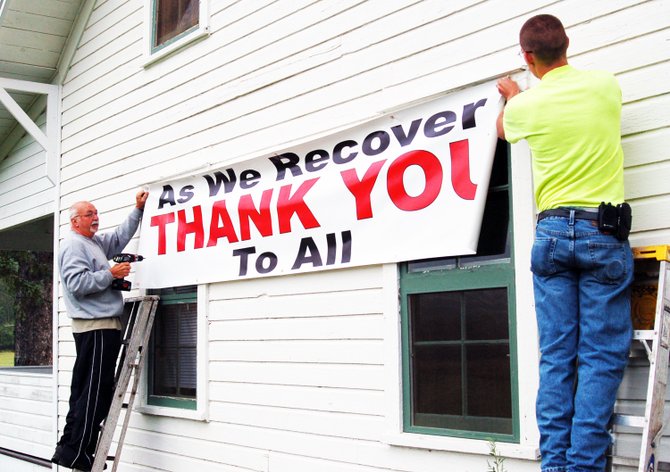 continued — Douglas said that the signs of damage had already popped up on the return trip to Jay.
"Power lines were down, roads were damaged, and it took us forever to get back," Douglas said. "I went to Jay to help get people out ay around 5 p.m., and there were places and people that you just could not get to. At 6 p.m., I was standing on the steps of the Catholic Church in Au Sable Forks and watched as the river came up and over the road. Those sites were unbelieveable."
"My first response was to go down to the town hall and call any of our elderly residents who lived along the river," Ferebee said. "They had all been moved or had someone helping them."
Ferebee said that while he was on the phone alerting people to the threat, one eye was focused at his neighboring building.
"All through this, I was watching the firehouse," Ferebee said. "Someone came running in and said there was a hole in the foundation. Then they came in and said it was bigger. Then we watched as half of the firehouse was swept down the brook. That day is not a blur for me; I can remember everything."
The following morning, Ferebee took to the ground in Keene and Keene Valley, walking through the streets and surveying the damage.
"The next day for us was a matter of finding cots and food for those who needed them," Ferebee said. "I walked down the streets a number of times, and the only way I can describe it was that it was an eerie day. Residents were just standing there, looking at the devastation and walking around in disbelief that this had happened."
Both supervisors said that they remembered the people who came to help, including state representatives and Gov. Andrew Cuomo.
Vote on this Story by clicking on the Icon