Crown Point — State Police continue to search for the missing man whose car was found in Crown Point.
Keith Gill, 45, was reported missing after police found his car, a blue 1999 BMW with Pennsylvania plates, parked on Peasley Road on Monday, Aug. 20.
"After we found the car and identified the owner, we located the family who ultimately reported him missing," said State Police Capt. John Tibbits, lead investigator in the case. "His family said it got to the point of being unusual for his car to be in Crown Point."
Gill was last seen at his family's cottage on Loon Lake in Chestertown in the early morning hours of Aug. 19.
Searchers are canvasing a quarter mile radius where Gill's car was found. Tibbits said investigators have not found any solid leads in the investigation over the past five days of searching.
Tibbits said the police have no indication of where he went after exiting the vehicle. With the rain on Monday and the increased foot traffic from people attending an event at Penfield Museum on Sunday, there were no tracks for investigators to follow.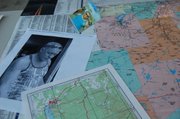 Cell phone records have not given police any leads Tibbits said. With limited to no cell phone reception, there is no way to track Gill's phone and all communications to his phone prior to Sunday give no clues to who or what brought him to the area.
Though his family said Gill had a history of mental illness and substance abuse he was not prone to disappearing.
Gill's car, located near a hiking trail, held no evidence that Gill may have been in the area for a hiking. Gill's family told police he was not an avid hiker and had no ties to the area.
"This is not a typical missing hiker search, based on our evidence this is a serious missing persons case," Tibbits said. "At this point in the investigation, we haven't seen anything to indicate foul play, but with so many unknowns it would be negligent to rule anything out."
(Continued on Next Page)
Prev Next
Vote on this Story by clicking on the Icon