Wilmington — Each year, active soldiers and veterans of the U.S. Army's 10th Mountain Division make their way to Whiteface Mountain to remember and honor their heritage.
The annual re-dedication ceremony of Whiteface to the members of the division created to fight against enemy forces in the mountains of Europe during WWII was held Aug. 15.
Photo Gallery
10th Mountain Division Dedication at Whiteface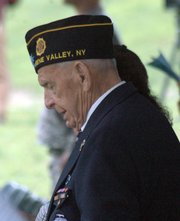 The 10th Mountain Division annual Dedication Ceremony at Whiteface Mountain.
"This is the highlight of our year to gather here in this beautiful setting," William Morrison, president of the Northern New York Chapter of the 10th Mountain Division Veterans, said.
In his speech, Morrison read from a 1945 edition of "Yank" magazine, which detailed the 10th Mountain Division's conquests in Italy.
"These missions were a key success in the war," Morrison said. "It was described as one of the most unusual divisions in the Army because it was made up of soldiers who had belonged to the same clubs and went to the same colleges, people who had skied with each other and against each other in meets. The thing about this group being an elite division is more than just fancy talk."
Morrison encouraged all those who have been part of the tradition of the division to take pride in their military heritage.
"We can point to this story and others with great pride while remembering with honor those who did not return," he said. "This truly has been a 'Climb to Glory' for which we can all be eternally grateful."
Division Commander Brig. Gen. Richard D. Clark emphasized those remarks to his troops.
"These remarks help us remember our lineage and honor as members of the 10th Mountain Division," Clark said. "It is a heritage that was set in Italy and we are always striving to live up to the standard that they set for us."
Clark said that he was recently able to join WWII veterans and their families on a trip to Italy to visit the sites of the battles fought by the division.
(Continued on Next Page)
Prev Next
Vote on this Story by clicking on the Icon