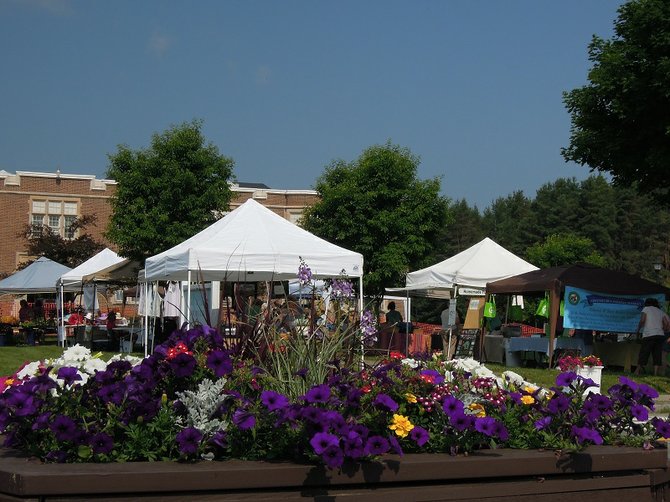 continued — The market has been bringing in an average of 500 or so people each Wednesday into town, which is in line with that objective, she said. She also noted that the specific parking problems were being dealt with by volunteers as they occurred.
At the meeting, Florence Converse — a supervisor at Grand Union — said the extra traffic in town during the market was boosting the store's revenue by about $1,000 per hour. it was reported that Grand Union has added staff on Wednesdays to handle the increase in business.
Later, Hemlock Ledge Restaurant owner Steve Caunter said he recently decided to offer lunch, after seeing the flood of traffic through town mid-day on Wednesdays.
"The farmers' market has been incredible — it's a real boost for the town," he said. "We're now doing really well on Wednesdays."
At the meeting, Dower noted that if the market were moved to Dynamite Hill, it would defeat its purpose, with patrons continuing to bypass downtown.
Don Butler of the Tri-Lakes Business Alliance, an action-oriented group seeking to boost commerce, praised the market's influence on the local economy.
"It's the greatest thing that's hit Chestertown in a long time," he said. "It's the talk of the town."
Referring to complaint from a Warrensburg resident — penned in a letter — that it was "disrespectful" to veterans to have the market nearby, a woman in the audience said the veterans' memorials get far more people appreciating them with the market being adjacent.
"The memorials get a lot more exposure — people from the market go over and examine the monuments, and the benches give them places to sit and reflect," she said.
After several town board members voiced kudos for the market, Chester Supervisor Fred Monroe took his turn.
"The market has been very successful, and very good for the town," he said. We're glad all the volunteers invested so much time into the market."
Vote on this Story by clicking on the Icon