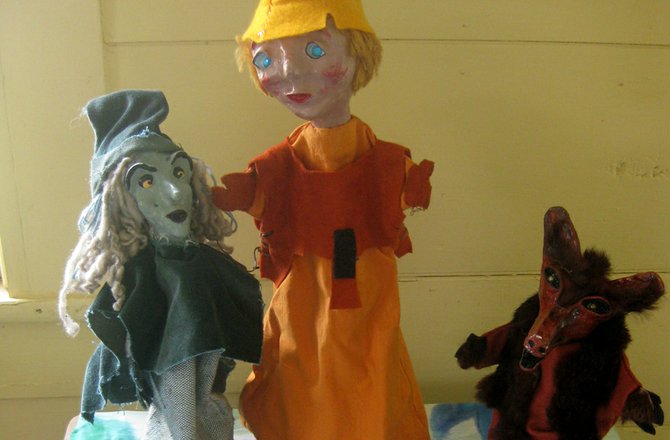 Minerva — For nearly four decades, Kate McCormick has brought art to life through puppetry. As a retired guidance counselor, she used her passion for creation and storytelling as a way to help struggling children in the classroom.
McCormick's puppets, which she keeps in a hand-painted suitcase, are mostly hand-made. She created them using different combinations of sewing and sculpture. Their bodies are made from cloth, and their heads from several different materials. Some of them were molded out of neoprene plastic, others from a papier-mâché mixture. She finished them off with hand-painted faces.
McCormick's puppetry career began in the late 1960s. She was working as a special education teacher for the New York City Department of Education, primarily with elementary and middle school students. The two core elements of her art — creation and storytelling — came from two different sources during her teaching career.
Creation came from a boy, Kenny, who was easily distracted during class. McCormick decided to put art supplies out to help him regain his focus. Much to her surprise, he embarked on a long-term project; constructing a model dragon out of boxes. It just kept growing, and in the process, inspired McCormick into using creativity as a means of handling the many behavioral and emotional troubles her students faced.
Storytelling came from a Holocaust survivor named Blanca. McCormick befriended her during her graduate studies at NYU. Blanca worked with multiple handicapped students. She used drama as a tool in her classroom. She built a wheelchair-accessible stage and sewed costumes for the children, encouraging them to write and perform their own stories.
"It was therapeutic for both the teacher and the student," McCormick said. "A real hands-on experience."
McCormick started making puppets with her students and constructing stages to act out their tales. She used fabric for the bodies and Styrofoam for the heads. Her students sewed the puppets themselves. It taught her students patience and character development, both for themselves and their puppets. She stressed the importance of interaction in these activities, and how vital it was for her students to be involved with the heroic deeds of their characters. Many of the stories she and her students worked with came from Swedish folklore.
(Continued on Next Page)
Prev Next
Vote on this Story by clicking on the Icon